How Lift Tables Can Improve Pallet Handling Systems
How Lift Tables Can Improve Pallet Handling Systems
When you hear people talking about their pallet handling systems, lift tables don't necessarily come to mind. More often than not, you probably think about forklift and forklift operators. However, a lift table can actually do a lot more for your pallet system than you think. Here are 3 reasons to introduce a lift table into your pallet handling system.
1. Limited Forklift Options
If you have limited forklift options, you may want to consider introducing a lift table to your pallet handling system. A lift table would be in a fixed spot right next to your pallet conveyor in order to lift the pallet up to/down from the conveyor. Valuable time can be wasted just waiting around for that forklift to be available. You shouldn't have to wait around for 30 minutes just to offload a pallet from the conveyor. A lift table will always be there to do the job.
2. Forklift Accidents Are Common
Forklift accidents are actually very common, with multiple fatal accidents every year. If there's a lot of traffic around your pallet handling system, a lift table could significantly reduce the number of accidents in the workplace. Operator errors happen all the time. Sometimes they are minor, but other times can be very serious. A forklift is crucial in many different facilities, but it may be time to consider reducing or eliminating that risk.
3. Lift Tables Are Cheaper
Lift tables are much cheaper upfront than forklifts. They also have very minimal maintenance requirements. You should always do regular maintenance on all your workplace equipment, but lift tables are just easier to maintain than forklifts. They also reduce the stand by time at the end of assembly lines. It's inefficient to have workers standing around waiting for an operator to offload a pallet from their station. It's much more efficient to have them do the offloading themselves with a lift table.
There are many things to consider about your specific pallet handling system before you switch to using a lift table for offloading. However, if you feel that something like a battery powered lift table is the right option for you, contact us today. The experts at Lange-Lift are happy to answer any question or concerns about how you could implement a lift table into your pallet systems.
5 Questions to Ask Before Purchasing a Small Lift Table
Are you in the market for a small lift table? If you are, you're probably deciding which lift you should buy.
Small lift tables take up minimal space but you'll want to make sure the table you choose has the capacity you need. Some small tables can lift more than 1000 pounds, while others cannot.
If you're having trouble finding a lift table that can perform the way you need it to, you may need to go with a custom lift table.
Whatever you're looking for in a lift, there are several things you should consider before purchasing. Read on for five questions you should ask yourself before making a decision.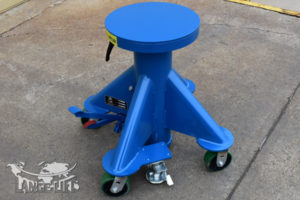 1. What Type of Small Lift Table Suits My Needs?
Several types of lift tables exist, and you'll want to determine which is best for you. To do this you'll need to consider how the table will operate.
If you'll be working in an environment without access to power outlets, look into battery-powered lifts. Choose the power options and other functions that work for what you need.
2. How Much Weight Do I Need Lifted?
Weight requirements should always be considered when looking at small lift tables. Think of what you'll be lifting. Whether its goods or people, you'll need to have the right weight-lifting power.
If you aren't sure of the weight you'll be lifting, at least make sure the lift platform is large enough to meet your size requirements.
3. What Do I Need the Lift Table For?
When comparing lifts, consider the intended purpose of your purchase. If you only need to lift small parts from time to time, your needs will be very different from someone lifting constantly.
As you look at various lifts, ask yourself if they are feasible or if you need something else (you can always contact our expert team for help!). And, if you'll be working in a freezer, make sure the lift has the correct fluids to work properly in that environment.
4. What Safety Features Are Required?
If you'll be using your lift table in an industrial area, make sure you know what safety features are required in your workplace.
If you'll be using the lift in your own workspace, consider what features you want in place. Lift tables help prevent common workplace injuries on their own, but additional safety features are never a bad idea.
5. Does the Lift Have the Working Capacity I Need?
This question is especially important if you're wanting to purchase a small lift table. Determine what your needs are, then compare tables against those requirements.
If the lift will be used for large amounts of time each day, make sure it has the ability and power to do so without wearing down too quickly. And if you need the lift to be portable, make sure you choose one that offers that capability.
Focus On Your Needs
Whatever your needs are, keeping these questions in mind will help you choose the right lift table for your shop. Take all aspects of use and ability into consideration before making a purchase.
While many lifts will be tempting because of low prices, don't react too quickly. Doing so may land you with a lift that doesn't meet your needs.
To discuss your specific lift table needs, contact us today.
How to Use Your Lange Lift Table: Battery and Air Lift Tables
Lange Lift offers a complete line of lift tables built for any application. In our last post, we covered the operation of our manual lift tables and electric lift tables. Read on to see operation procedures for Lange Lift battery lift tables and air lift tables.
Lange Battery Lift Tables
Lange battery lift tables enable improved ergonomics and easy adjustment anywhere, with an onboard 12V deep cycle battery, DC Motor, and battery charger. Charging the unit is easy, just plug it into a 120V AC outlet with an industrial grade extension cord, and the unit will be fully charged and ready in 8-10 hours. Easy to read indicator lamps on the battery charger will alert you to its status, and charging will cease when the unit is fully charged. For maximum life, it's important to not operate the lift table while it is charging.
To lift your Lange battery lift table, simply push and hold down the lift button until the deck has reached its maximum raised height of 45″ from the top of the deck to the floor. The built in bleeding mechanism ensures that over raising will not damage the table and allow it to settle at 45″. To lower, push and hold down the lower button. The lift table will lower until the deck has reached its minimum lowered height of 27″, or until the button is released. A lift table under load will lower more quickly than an empty lift table, so be sure to exercise caution. Adjust the onboard flow control by hand to adjust lowering speeds, and always use proper safety precautions required by your environment.
Deck rotation is accomplished as with any Lange Lift table, by loosening the lock handle under the deck and rotating the deck 360º degrees in either direction at any height. Tightening the lock handle will lock it in place, although some movement is intended to protect the bearing. Do not over-tighten the lock handle, and position the lock handle arm towards the floor to prevent possible damage.
On a flat surface that is free of debris, you can lock your lift table to the floor. Use your foot to push down on the large pedal until it locks. To release, press up on the small pedal until the large pedal snaps up.
Lange Air Lift Tables
Lange air lift tables allow ease of operation without requiring an electrical source. To power your Lange air lift table, connect the lift to an air source with a recommended air output of 80 PSI @ 50 CFM. To lift the deck, tilt back and hold down the air valve pedal until the deck has reached its maximum raised height. To lower, tilt forward and hold down the air valve pedal. Adjust the onboard flow control by hand to adjust lowering speeds, and always use proper safety precautions required by your environment.
Deck rotation and floor locking are accomplished in the same manner as all Lange lift tables. These simple controls, consistent across all types of Lange lift tables, ensure ease of use by everyone in the facility, keeping workers free from injury and enhancing their ability to do their best work.
Contact us today to learn more
Since 1934, Lange Lift has been manufacturing high ­quality hydraulic lift tables, scissor lifts, and custom lift ­products for material handling in a wide array of industries across the world. Contact us today to learn more about what our great products can do for your business.