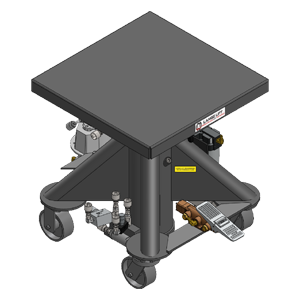 Table Capacities
1,000 Pounds
2,000 Pounds
3,000 Pounds
4,000 Pounds
5,000 Pounds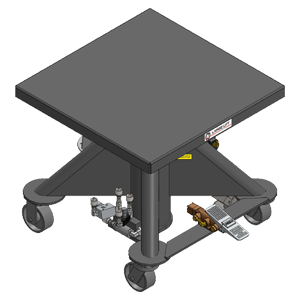 Table Capacities
1,000 Pounds
2,000 Pounds
3,000 Pounds
4,000 Pounds
5,000 Pounds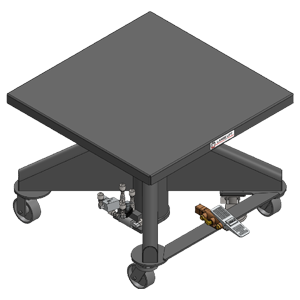 Table Capacities
1,000 Pounds
2,000 Pounds
3,000 Pounds
4,000 Pounds
5,000 Pounds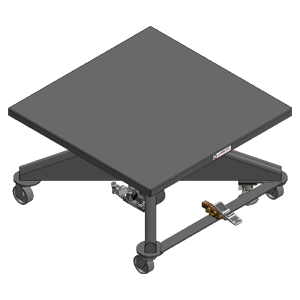 Table Capacities
1,000 Pounds
2,000 Pounds
3,000 Pounds
4,000 Pounds
5,000 Pounds
Air Powered Hydraulic Lift Tables are ideal for material handling applications in combustible environments, such as spray booths, where electrical currents are prohibited. The adjustable working heights of our tables help promote safety, a reduction of bodily stress & repetitive motion injuries, and increased efficiency for the operator. Lange Lift Tables are the perfect ergonomic choice for a myriad of industries and professions, such as those in general manufacturing, machining, aerospace, national defense, medical manufacturing, welding, product assembly, heavy equipment, energy, oil & gas, metal fabrication, and more. Since 1934, our products have been 100% manufactured in Wisconsin, USA — currently operating out of our factory in Menomonee Falls.
Is an Air Powered Lift Table Right for Your Team? 
Material handling is necessary, regardless of the environmental conditions of your facility, and we offer solutions with that in mind. If you have a spray booth, or any other environment that's highly combustible, you'll need a lift that doesn't operate using electrical currents. If this application is high cycle, our Air Powered Lift Tables are a perfect choice, saving time and money during repetitive lifting/lowering. These tables help promote safe lifting practices by letting the table do the lifting work, not its operator. Repetitive motion injuries are common and can be combated with an ergonomic lift table from Lange Lift.
How Does an Air Powered Lift Work?
The entire air system is located under the tabletop, and includes several quality components and minimal maintenance. The air motor provides the power necessary to raise the lift table by engaging the hydraulic fluid and driving the ram that lifts the deck. To power the table, we recommend using shop air at 80 PSI @ 50 CFM, by connecting your choice of air-line adapter compatible with your shop air system to the port located on the onboard Air Regulator, Filter, and Lubricator Combination Unit. Once connected, the lift can be controlled with the Air Valve Pedal, tilting it forward to raise the lift table up to the desired raised height, and tilting it back to lower the table to the desired lowered height. Air Powered Lift Tables have an overall raised height of 45″, a lowered height of 27″, and 18″ of vertical travel. A hand-adjustable flow control valve is located on the base unit of the table, which allows you to adjust the gravity down lowering speeds necessary for the needs and safety requirements of your operation.
How Versatile Are Lange Lift's Lift Tables?
The top of the table rotates independently from the base 360º in any circular direction. You can secure the deck in place with the adjustable lock handle below the deck to prevent turning during stationary use. High mobility is achieved with dual swivel and rigid casters, and provide maximum stability under load. Materials can be transported from one location to another when the floor lock is disengaged and resecured when stationary.
Our Company and Craftsmanship
As an independent, family-owned, veteran-led small business, we've built our reputation as a quality manufacturer of industrial lift products and field-proven, dynamic solutions, for more than 80 years. We serve a variety of industries here in the United States, where our product is manufactured, and around the globe. Regardless of your industry, a reliable Lange Lift Table is a valuable tool for your material handling needs. We're honored by the trust placed in our people and the products we make and hope to have an opportunity to earn yours.
Did you know that all of our standard products are highly customizable? If you need a modified version of one of our tables, or a completely unique product, visit the Contact Us page to describe your application. One of our salespeople will quickly assist you with a drawing and quotation, or put you in touch with our professional, in-house engineering department.
Air Powered Hydraulic Lift Tables – Video