Company Advantage Statement
Home
TopFloor DevOps
Lift Tables, Scissor Lifts and Custom Lifts
Heavy duty lifts for every type of job. We manufacture the toughest lifts, capable of lifting thousands of pounds for mobile and stationary applications. Lange Lift is known around the world for our high quality lift tables and creating custom lifts for any job. Whether it's 1,000 lbs or 30,000 lbs, our heavy duty lifts can handle the weight with ergonomic design. We pride ourselves on a 'sky's the limit' approach, working directly with end users to provide solutions to the most challenging applications. Our lifts are ideal for small machine shops to large scale manufacturers, government facilities, military installations, and national defense contractors. Lange Lift is agile enough to make slight modifications to fully custom heavy duty lift designs to fit your exact specifications. Scissor lifts, turntables, lift carts, tilters, upenders, lift gates — no problem. Contact us with your specifications, and if we don't have what you need, we can custom build it for you. Contact us to discuss your needs and find out why we are the industry leader in manufacturing custom heavy duty lifts.
Battery Powered Lift Showcase
Our Lifts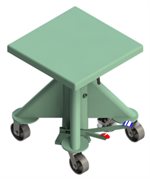 The world's strongest, most versatile lift tables on the market, our lift tables can be used in a myriad of ways, including but not limited for use as welding tables, die transfer tables and more.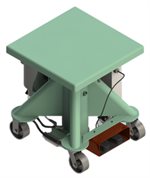 Our electric lift tables are found in shops all over the world and used for many applications; including: welding tables, die transfer tables, assembly tables, grinding tables adnd more.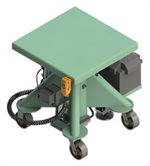 Battery powered lift tables offer the best solution for portability and reliability. Strong and versatile, our lift tables can handle just about any job.
These Air Powered Industrial Lifts are designed to easily tap into your existing air systems and provide excellent maneuverability in a factory environment. All of our tables are built with safety and ease of use in mind.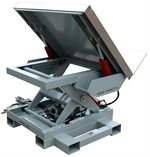 We are committed to building high quality products that are built to last in harsh, high cycle environments. We use the latest in 3D CAD software to help bring our designs to life prior to production.
Customize your Industrial Lift
Our in-house team of experts and years of experience allows us to offer flexibility on all of our industrial lift products to meet the unique needs of your application. Whether it's a modified version of a standard lift table or a completely custom lift, our experienced engineering and sales staff will work with you through all phases of development. We use the latest in 3D CAD software to bring our designs to life prior to production. Our lifts are made with the highest quality material, and are ergonomically designed for ease of use and safety. Our lifts are used in every industry, from small machine shops to government and the aerospace industry. There is no job that we can't handle.
Industrial Skates & Dollies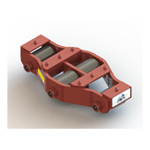 We specialize in finding solutions for all of your load moving needs. Whether it's a slight modification of our standard products to help better fit your application or a completely unique design, our dedicated staff will work closely with you though all phases of development.