To source the correct Replacement Foot Pump Assembly for your manual foot pump operated Lange Lift Table, it is important to note that the length of the pedals on our foot pumps vary from table to table. The length of pedals we use is dependent upon the physical dimensions of the deck to help offer a more ergonomic pumping action. If you don't know the model number, you can measure the length and width of the deck from one side, and then the other. All of our standard tables use square or round decks.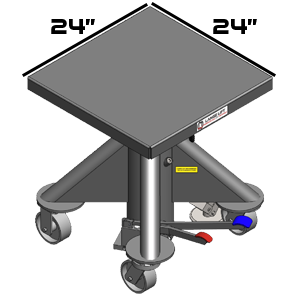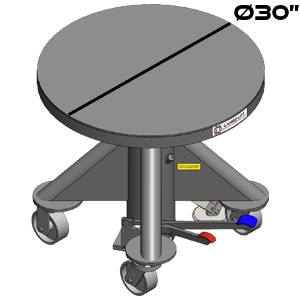 If you have a modified or custom table, or you aren't sure which part is the right one for your table, please call customer service at 1-800-558-0577, or contact us by filling out a quote request form to the left side of this page.
Replacement Foot Pumps for our discontinued Machine Green painted tables are still available for a limited time.
| Deck Size | Power | Color | Part Number |
| --- | --- | --- | --- |
| Ø30″ – Round | Manual Foot Pump | Shadow Gray | FPA24-GRY |
| Ø30″ – Round | Manual Foot Pump | Machine Green | FPA24-GRN |
| 24″ x 24″ – Square | Manual Foot Pump | Shadow Gray | FPA24-GRY |
| 24″ x 24″ – Square | Manual Foot Pump | Machine Green | FPA24-GRN |
| 30″ x 30″ – Square | Manual Foot Pump | Shadow Gray | FPA30-GRY |
| 30″ x 30″ – Square | Manual Foot Pump | Machine Green | FPA30-GRN |
| 36″ x 36″ – Square | Manual Foot Pump | Shadow Gray | FPA36-GRY |
| 36″ x 36″ – Square | Manual Foot Pump | Machine Green | FPA36-GRN |
| 48″ x 48″ – Square | Manual Foot Pump | Shadow Gray | FPA48-GRY |
| 48″ x 48″ – Square | Manual Foot Pump | Machine Green | FPA48-GRN |